Gottman Method Couples Therapy
The Gottman Method has several unique components that differentiate it from traditional couples therapy:
1. The length of sessions.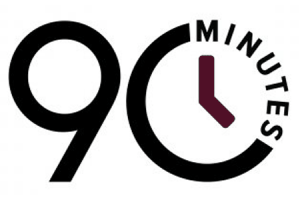 Traditional couples therapy is done in a 45 to 50 min therapy hour. The Gottman Method roughly doubles that time to 90 minutes weekly (or more often). The longer session allows the time for each partner to fully process their perception of an issue, reflect understanding, and to practice application of new principles for better repairs. Dr. Gottman has demonstrated that the more time you focus early in treatment the better the results. The 90 minute at least weekly approach is clearly better than traditional 45 to 50 minute sessions but the very best option is a Marathon Session.

Marathon Intensive Sessions
Dr. John Gottman has reported the best results from using the intensive marathon approach.  Marathons are 16.5 hours of assessment and therapy over one weekend (Friday, Saturday, Sunday) plus 1.5 hours of individual assessment prior to the weekend (total of 18 hours).  The structure is as follows:
A 45 min. individual assessment for each partner arranged prior to the start of the marathon.  These can be done in my office or via video conference on my website.
All Gottman Assessment forms must be completed on line prior to the start of the marathon.
Day 1 Friday

9:00 AM to 12:00 PM History of the relationship and video assessment.  Review of Gottman Assessment Survey data and treatment plan.
12:00 PM to 2:00 PM Lunch
2:00 -5:00 PM  Couples therapy session, introduction to Gottman Principles

Day 2 Saturday

9:00 AM to 12:00 PM Couples therapy session.
12:00 PM to 2:00 PM Lunch
2:00 PM to 5:00 PM  Couples therapy session.

Day 3 Sunday

12:00 PM to 4:30 PM Couples therapy session.  Consolidating gains, creating a relapse prevention plan, and scheduling follow up.
The fee for a 3 day Marathon session is $2911.00. To arrange dates, contact me directly by phone or by loging in and posting on my discussion board.

2. The assessment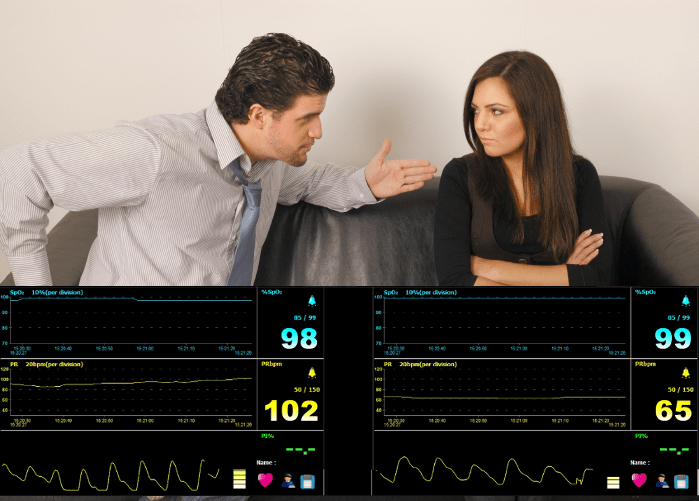 Video with integrated pulse ox feedback.
In traditional couples therapy assessment and treatment planning take place in the first session and may or may not involve standardized relationship surveys. The Gottman Method assessment is multidimensional over multiple days. We assess the relationship as well as each partner individually. We also assess each individual's physiological response to conflict in the relationship. The assessment covers each component of the Gottman Sound Relationship House theory. It takes place over three 90 minute assessment sessions. In the first session we take an in depth relationship history.  We also do a video assessment in which we also assess the relationships conflict style and each partner's level of physiological arousal in a conflict.  Between the first and second assessment sessions, each partner will complete more than 30 pages of assessment surveys (done on line at this web site). On the second day of assessment we spend 45 minutes with each partner for individual assessments. And on the third day we review all the data together to make a goals and plan that addresses the specific needs or your unique relationship. For some couples the information they gain out of the Gottman assessment process alone is sufficient for them to make the changes they need. The total fee for three days of assessment is $285 x 3 = $855.00.
3. The treatment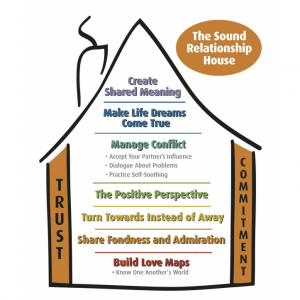 We do not start treatment until the assessment phase is completed. Treatment sessions are at least 90 minutes and at least once a week in the beginning (with marathons session option lasting up to 6 hours a day over 3 days).  Every session focuses on addressing the layers of the Sound Relationship House. Therapy addresses what ever the couple brings in to the session whether it involves current concerns or old hurts. In dealing with old hurts and betrayals, we work to create a safe environment where every wound can be soothed. In dealing with the day to day struggles of life, specific conversations are facilitated. Methods and principles are practiced in the session that have been demonstrated to increase safety, and mutual understanding. We develop compromise where possible and acceptance where differences are likely to persist. Video recording and physiological monitoring are also integral to Gottman Therapy sessions as a teaching tools. As the principles are mastered we lengthen out the space between sessions and can decrease the time to 45 minutes. Little by little we fade out the need for a therapist in the relationship.
4. The follow up
At three to six months we revisit our work together and tune up any areas that may have been neglected. Tuneup sessions are welcome as often as needed.
5. Brief Overviews By Dr. John Gottman
The Four Horsemen of the Apocalypse (with Anderson Cooper)
Making Marriage Work
ARVE Error: src mismatch
url: https://www.youtube.com/watch?v=AKTyPgwfPgg&t=5s
src in: https://www.youtube-nocookie.com/embed/AKTyPgwfPgg?start=5&feature=oembed
src gen: https://www.youtube-nocookie.com/embed/AKTyPgwfPggActual comparison
url: https://www.youtube.com/watch?v=AKTyPgwfPgg&t=5s
src in: https://www.youtube-nocookie.com/embed/AKTyPgwfPgg?start=5
src gen: https://www.youtube-nocookie.com/embed/AKTyPgwfPgg
To learn more about Gottman Method Relationship Therapy see my resources page at this link: Gottman Resources